FRANK
 

CARILLO

Frank Carillo is the epitome of a musician's musician. In his musical career, he has demonstrated his craft as a gifted guitarist, exciting performer, memorable songwriter, as well as a warm and likeable character. With this he has managed to leave an indelible mark on the international music scene.

Frank began his musical career in the early 1970s by working as a guitarist in England on two of Peter Frampton's first solo albums.

In 1973 he founded Doc Holiday, with whom he recorded his first album. During the recording, the members of Led Zeppelin, mixing their Houses of the Holy album in the adjoining studio, quickly became friends, resulting in an unforgettable Led Zeppelin – Doc Holiday jam session.

In the late 1970s, Carillo began his solo career, opening for a number of world-famous bands, including Van Halen, Cheap Trick, Bad Company, Tom Petty and the Heartbreakers, and the J. Geils Band.

Over the years, Carillo has also collaborated with various female singers. For example, he was a co-author for Carly Simon and Joan Jett. He spent several years in a duo with singer Annie Golden; they recorded two albums, ˜Fire In New Town' and ˜Toxic Emotion'.

Frank used Golden Earring guitarist George Kooymans' studio in Belgium to record the Toxic Emotion album, and they became good friends. George also helped produce the album.

In 1995, George Kooymans introduced Frank to Dutch vocal sensation Anouk and Frank wrote two songs, "Pictures On Your Skin" and "Time Is a Jailer," for her platinum debut album.

When Golden Earring traveled to New York in 2003 to record their most recent album, Millbrook, USA, Frank co-wrote seven songs on the CD with Golden Earring members George Kooymans and Barry Hay. Besides being a composer, Frank plays guitar and sings along on the CD.

In 2004 Frank formed a new band called Frank Carillo & The Bandoleros, with Norman DelTufo on percussion/backing vocals, Eddie Seville on drums/backing vocals, Karl Allweier on double bass/backing vocals and Frank's brother Andrew Carillo on guitar. In the United States, the album Bad Out There received rave reviews and was chosen as one of the best of the year in numerous magazines. This album demonstrates Frank Carillo's knack for combining powerful songs and exciting performances. In 2008 Frank Carillo and the Bandoleros released their new album 'Someday' which was greeted by a wave of fantastic international critical acclaim in the UK, Germany and the Netherlands.

In 2009, Carillo and George Kooymans recorded their CD "On location" and recently recorded a new CD that will be released at the end of 2019. In 2018, Carillo and the Bandoleros released their new album 'Miles to go'.

Frank Carillo has been playing a Homestead Grand Auditorium guitar since March 2019. He started playing at a Homestead during his acoustic Dutch spring tour with Eddie Seville. The Homestead has become his acoustic guitar of choice and he now plays it on all of his tours and gigs.
SPECIFICATIONS:
12 string coming up
Fretboard inlay decoration
Head custom brand/ ornament
Colour side and back (body)
Finishing headstock overlay
Silver MoP Block, also on the 1st fret. On the 12th Merletten on the Silver MoP Block
Tamarind, on the end (V) From Tamarind
Dark Ebony (nearly black), with purfling (Silver MoP) and binding (Tamarind)
Homestead "G" and Silver MoP purfling and Tamarind binding
Natural Dark Ebony (nearly black) (NC paint)
Darker in tone with the same back and side of the body (NC paint)
sunburst (see picture)NC paint
Custom bridge similar to DV bridge but without the V part and without inlay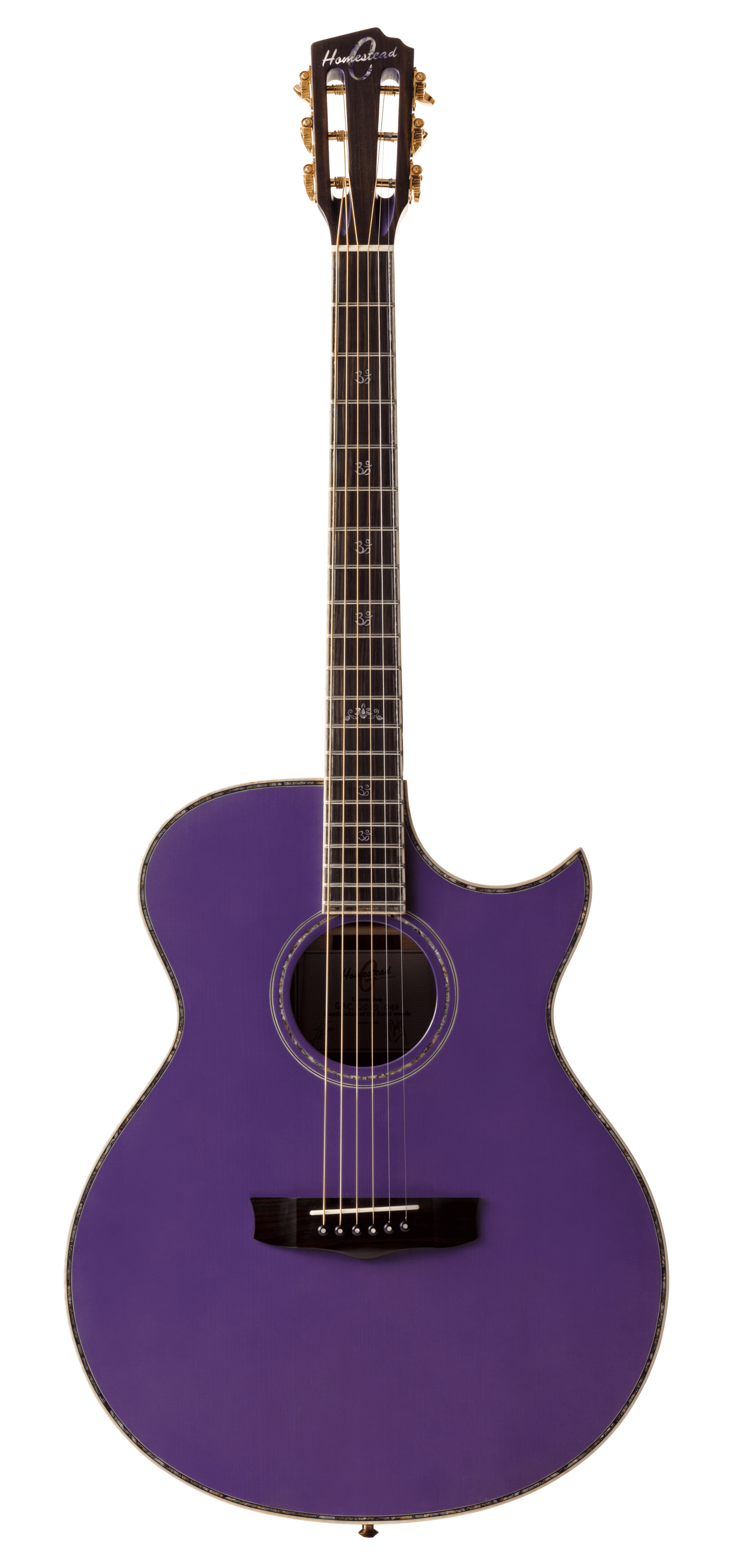 SPECIFICATIONS: Grand Auditorium with Cutaway
Back and side wood (solid)
Fretboard Inlay decoration
Headstock custom brand/ornament
Back of the guitar (body)
6 ea Om MOP on the 12th Flower in MOP
Homestead with standard "C"
Blue Purple Stain not painted